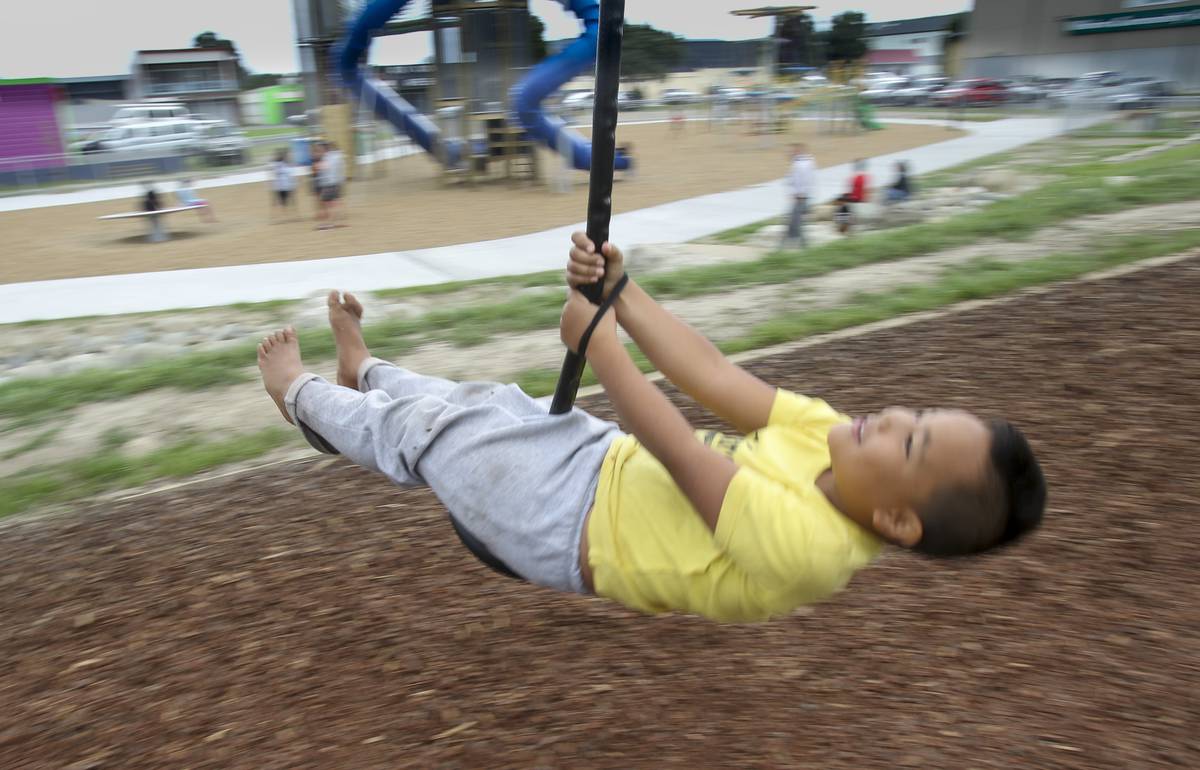 Having something that Hastings and Napier do not have is a point of pride for Te Wairoa – and right now that point of pride is the Flying Fox at the new Wairoa Destination Playground.
Wairoa District Council councillor and Yroa Ynot youth project facilitator Moira Barber said the $750,000 playground opened just before Christmas, thanks to the Young Achievers trust.
"It's been a big hit and there are more development to come. This is the first stage of a three-stage that will include an outdoor basketball court, upgrading the skateboard park, a bike track for the little ones.
"An important detail was they did a lot of surveys to see what the kids wanted here, so that was a key element – lots of engagement from young people, particularly teenagers.
"First and foremost the flying fox is key. Originally, the kids wanted it to go from one side of the river to the other side, so this was the next best thing and it's the highlight – and it's something Napier and Hasting don't have."
Wairoa youth worker Tevita Pasikala said the new playground was "amazing".
"I would say there are at least 100 kids here every single day, and that's from early morning when people are heading to work at Affco, you will see parents walking their kids and calling in here, and those ones that come home at 5 are down here watching the kids and having dinner.
"So, it's utilised constantly. We've brought a summer programme here today too. There's nothing like coming here because the park is at the edge of our river, our awa, that brings a bit of cultural significant with it. A lot of people come to the water to relax and reflect, and the kids can do that and play at the same time – it's the best of both worlds."
Ten sponsors helped fund the playground.
Project co-ordinator and WYAT trustee Roslyn Thomas said the playground had been a community-driven project from the outset and they were grateful to Wairoa District Council for taking the playground into the future.
"The community support for the project has also been strong from the beginning with the playground direction being taken from our district's children's playground wish lists and designs, which we continually referred to, ensuring we never lost sight of our stakeholders, our community.
"We have no doubt that the Destination Wairoa Playground will play a big part in the memories families make in Wairoa for many years to come."
Gisborne-based company Eastland Group, which operates Wairoa's local lines company, contributed $100,000 to the project, as part of an out of court settlement reached with Hawke's Bay Regional Council, following a spill last year at the Waihi Dam.
"Eastland Group contributed $100,000 towards the project, joining supporters and key funders including the Wairoa District Council and the Lottery Grants Board."
"Interim Eastland Group chairman Tony Gray and I were delighted to attend the opening of the Wairoa Destination Playground just before Christmas. The vision and tenacity of the Wairoa Young Achievers Trust has resulted in a fantastic asset created by and for the whole community. Many of our staff have been in Wairoa since the playground opened, and they've seen how popular it's proving with local families and visitors alike."
http://travel.einnews.com/article/428086598/T0sEdN5YDYa0dr41?ref=rss&ecode=kmEGzPoMidBgMhqS